As long as there art poetic incantations,
Of romantical notions enamored,
Inhabiting man's mischievous soul,
Faeries and fay people enchanted,
Twill cast magical spells on the whole.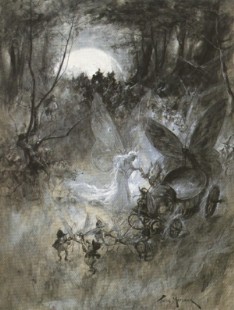 Oh Faerie Queen
Come dance with me,
For thine fair faerie world
Hath I not seen.
Oh dance with me,
For I twould be free with thee.
Lend me thine MAGIC WINGS
To carry me
O'er yon hill and dale,
ThrouGh and throuGh
This life's flaminG veil...