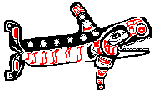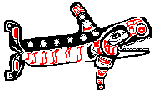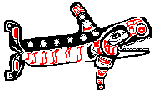 by Gary Jacobson

Great peace can come winging
When looking back toward the past,
Reeling, feeling, careening...
Leaving heart and breath momentarily aghast,
Fluttering from ancient lore singing
Mysteries coming quickening fast.
Looking back into lives past sealing
Deep and deeper till comes a sigh
From where the mysteries lie...

Great healing,
In with the past linking,
Bears the silence of the ages
Sublime...
So quiet,
So still,
All you can hear is wind rustling
The pages
Of time...

Whether from prehistoric peoples carving
Petroglyphs on rock drawing
Ancient study of archeology
Material tools, dwellings, graves, pottery,
Or poring over records of genealogy
Ferreting clues to past human culture,
Threads from the past
In the imagination capture
Past glories
Mesmerizing stories...


For in what was done there
Lies the key
For those that would wisely see
From dark annals that to this day last
Dwelling in a prehistoric cast
Comes the intimation
To our civilization information
Oft repeated on the walls of our mind
In future culture...
In fact, is only repetition
Of the past...

For all men, then as now,
breathed,
Loved,
Wanted,
Suffered,
Hungered,
Reveled,
Worshipped,
Following yonder star
Before which they did bow.

In the dim past till the present of men
There strode great men,
Great thinkers,
Great warriors, Great hunters.
Cords weaved from past lives,
Even today lingers,
Sharing influence in their lives feeling
Sharing a force binding
In their lives restraining,
Telling of the world's
Historic hero Saviors
And gross inferiors...

In pasts haze stood men nefarious,
Men ultimately injudicious,
Capricious,
Gregarious,
Greedy men,
Ne-er do well men,
Raving cheats,
Roving dead beats,
Men with shady behaviours,
Intellectual juniors
Mixed amid saged superiors...

Past exploits preserve
Rock drawing by skillful artisan
Prehistoric crafstperson
Telling of great teachers,
Hunters,
Rulers,
Spiritual leaders,
Brave warriors,
Magnificent beasts of prey,
Showing hunted, revered quarry,
Revealing how they did pray
Day to day
In reverential dignity,
Giving worshipful entreaty,
To their Gods, their supreme deity...